One of Wythall Radio Club's most active "homebrewers" is busy again! Barry M0DGQ reports that construction has started on an ambitious new all band, all mode HF transceiver.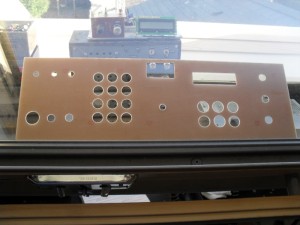 Using a Direct Digital Synthesiser (DDS) for the VFO, the controller is a two-PIC circuit, which can be found here. It has all the bells and whistles of an upmarket commercial transceiver with such niceties as dual VFO's, memories & splits.
Ingeniously, Barry has used bits and pieces from redundant equipment – for example, he has salvaged the keypad from an old telephone unit and the blue switch array from a discarded fax machine. This is doubly advantageous as the buttons are both easy to use and see for us amateurs of advancing years! :-)
As Barry himself admits, "…by today's demanding standards, this would not be suitable for a contest grade receiver due to the low level spurious outputs on the higher frequencies as these can mix with very strong out of band signals, however with good front end band pass filtering, this radio should be fine for most uses."
We look forward to progress reports and to seeing the finished article!