Looking back through recent posts, you will see that a number of Wythall Radio Club members are appearing individually in the hobby press or seem to be getting very well known for their Radio Activities.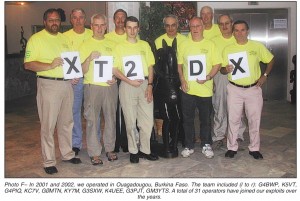 Today it is the turn of Lee G0MTN. Lee is one the UK's best known and respected Amateur Radio contesters. In the current (May 2013) issue of CQ Magazine (a US publication but read worldwide) a photograph of a slightly younger(!) Lee appears in the article entitled "The VooDoo Contest Group in Africa – The End of an Era"" written by another "famous" radio ham, Roger Western G3SXW.
The photo, reproduced above exactly as it appears in CQ Magazine, was taken in 2001/2002 when Lee was involved in the VooDoo Contest Group taking part in one of their CQ Worldwide contest activations – this time in Burkina Faso as XT2DX
It is really good to see another Wythall Radio Club member making waves in the world of Ham Radio! And why not take a look at CQ? It's a darned good read!