More excellent news from the Wythall Radio Club training team.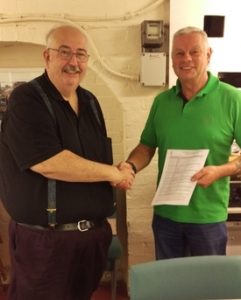 Yesterday Barry Garrison passed his Intermediate Licence at an exam at the club.
Barry says he is now keen to start on the Advanced course which we are starting at the club soon.
All at WRC congratulate Barry on an excellent result and look forward to hearing more good news from him in December after the Advanced Exam.
Barry is pictured with his pass certificate with Head Trainer and Club President Chris G0EYO.