Wythall Radio Club's eagerly awaited Easter Contest Results are out!!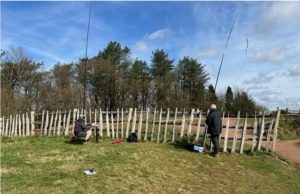 Keeping up his excellent track record, Jim 2E0BLP is the winner of the 2m / 70cm FM Section and the G6ZDQ Shield with 800 points, well clear of Simon G4TVR in second place.
Clive M7OCB was the leading Foundation operator in the 2m/70cm section, and third equal with Pete M5DUO.
In the All Bands/Modes section, Chris G3YHF is the winner of the G0ICJ Shield with 364 points. Ian M0LQY was second (only 12 points short!) and Chris G0EYO in third place.
During the contest, Stuart M0SRZ, Clive M7OCB and Chris G3YHF scaled Walton Hill – a local highpoint – and activated it for SOTA (Summits on the Air) points.
It was a lot warmer than their previous activation, and contacts were made with Club members as well as other stations.
The picture shows Clive on 2m FM using his wire J-pole slung from a 7m SOTA mast, and Chris trying to get some cw qsos on 40m using an FT817 and 40m inverted V dipole from an 8m SOTA mast.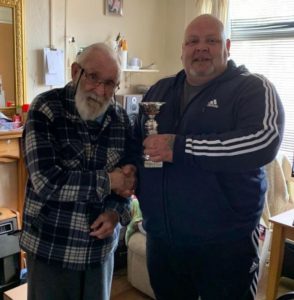 Sadly, Jim 2E0BLP has announced that he is going to retire from serious club contest efforts.
We thank Jim for his enthusiasm over many years.
Jim has won the Easter contest more than any other member, is a joint leader of the Christmas Contests with Kev 2E0NCO, and overall has won more club contests (11) than any other member – ever!!
The photo shows Jim receiving the Trophy for winning the Christmas Contest 2m/70cm section from Kev.
We hope Jim will continue to be on the air during future contests with his reliable signal, even if he's not making a serious entry!