The clock is ticking towards the next Wythall Hamfest on Sunday 20th March and Wythall Radio Club is pleased to be able to offer some extra special deals together with our main trader Martin Lynch & Sons, "The World's Favourite Ham Store".


Featured first in this mini-series of deals is the fantastic Yaesu FT-dx1200 – this rig provides sophisticated operation on 160 to 6 meters with up to 100 Watts on SSB, CW, and FM. A built-in 4.3-in TFT wide full color High Resolution Display with loads of information provides superior operability and visibility. More details are available on the MLS site here.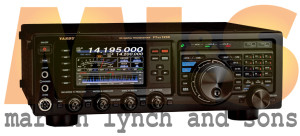 If you are interested in one of these radios at a very special price (and pickup on the day of the Wythall Hamfest of course!) just contact one of the sales guys at Martin Lynch and Sons on 0345 2300 599 and quote the code "Wythall Hamfest".
This will ensure you get the best "on the day deals" before the big day and of course, with free pickup from the event, no carriage charges either!
Wythall Radio Club & Martin Lynch & Sons – bringing you the very best deals at the Wythall Hamfest!