Today is a big day in the UK Amateur Radio calendar and it's one that Wythall Radio Club members will be enjoying too!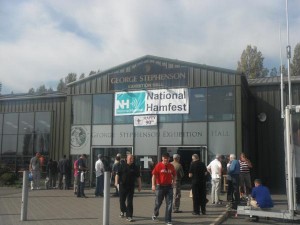 At 1000 this morning, special guest Eric Swartz WA6HHQ, founder of Elecraft Radio (on his first visit to the UK)  opens the doors to the RSGB National Hamfest at Newark in Nottinghamshire.
A team of Wythall Radio Club members is spending today (Friday) at the event and will probably be "having fun with ££" which we hope will lead to more "having fun with RF" as our club motto states!
We look forward to meeting many friends at this event, and doubtless a bacon sandwich (or three!) will be swilled down with a beer or two…