Just a reminder that Steve Venner from Martin Lynch & Sons is visiting Wythall Radio Club this Friday 23rd February.
Steve is bringing the very eagerly-awaited new IC-7610 SDR from Icom with him to the club.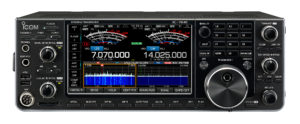 Apart from listening to Steve's stories of "Life on the Other Side", what a fantastic opportunity to see one of the latest ham radios close up and have an unfettered play!
Remember, the talk is at 8pm (earlier start than usual!) in the Darts Room at Wythall House, B47 6LZ and visitors are welcome!
I'd get there for 7.30 and get a drink from the bar & reserve my seat, if I were you. :)