The results are out for the RSGB Club Calls 1.8 MHz Contest and it's great news for the members of Wythall Radio Club!
51 Club Teams from across the UK took part and Wythall Radio Club's 'A' team of G7WAC, G3YXM, G7DDN & G4WAC finished in overall 3rd place. A great effort and winners of the certificate pictured!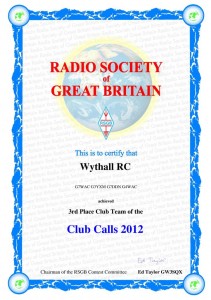 Our 'B' team of Pete M0COP, Don G0NES, Jim 2E0BLP & John G4MTG finished 16th and even our 'C' team (we were the only UK club with a 'C' team!) of Pete M5DUO, Barry M0DGQ, David G7IBO & Alf G1MJO finished 40th out of the 51 entrants!
In the individual scores, 3 of Wythall Radio Club's stations finished in the top 10 (from 73 entrants) with G7WAC (operated by Callum M0MCX, Jon M0JMM & Stu M0NYP) ending up in 6th place. Dave G3YXM was 8th and Chris G7DDN came 9th.
In the Club table, G4WAC (operated by Lee G0MTN, Mike G4VPD, Stan G4JGV, Mark M0RKX & Phil 2E0WTH) finished 9th out of 33 Club stations.
The full results are tabulated at the RSGB's HF Contest Website. Meantime our congratulations go to the 18 members who took part on air, plus the support teams who helped out with food, drink and in so many other ways! Special thanks to Dave G3YXM who co-ordinated all the efforts.
Great fun and we will be back next year!