Once again it is pleasing to report that both Wythall Radio Club news and members are making it into the Radio Society of Great Britain's monthly journal.
The September edition of RadCom is now hitting doorm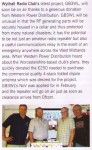 ats across the UK as we write and so news of our impending repeater, GB3WL will also be getting out, as you can see from the snippet. The article appears on page 84 but if you click on the picture of the article (left) you can have a sneak preview!
That's not the only mention for our members this month though, as club member Dave G3YXM is also quoted a few times in the Mobile section of Peter G3LDO's Antennas column on page 68. Well that's what happens if you run 400 watts when out mobile on the HF bands!
We do seem to playing spot the Wythall Radio Club members in most RadComs these days – long may that continue!