It's always gratifying to see our local press, in this case the Redditch & Alcester Advertiser, printing a story about Wythall Radio Club.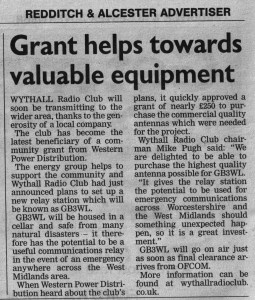 In the most recent edition, they have an article about our new repeater antenna and how we were helped with it by our friends at Western Power Distribution.
WPD gave us a generous grant in order for us to purchase a 4 stacked dipole antenna towards our new relay station GB3WL. You can read more about that here.
News like this is always of interest to our colleagues in the press and Wythall Radio Club try to let them have as much community-based information as we can, if for no other reason, it helps enhance our club's profile in our local community.
So thank you, Redditch & Alcester Advertiser!