About WRC
Wythall Radio Club (WRC) is one of the most active clubs in the Midlands.
We meet every Tuesday evening from 8pm onwards at Wythall Community Association, Wythall Park, Silver Street, Wythall. The club started as a CB club in 1981 at a time when CB had recently been legalised and took off in a big way. It quickly gained about 100 members.In the first couple of years, many members wanted to progress to amateur radio and WRC eventually became a ham clubin 1983 as more and more members passed the exam and got their amateur licences.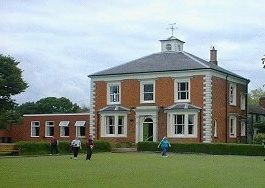 The club is well equipped, we have a VHF/UHF antenna system mounted on a 60ft Versatower, as well as a 240ft doublet antenna hidden in the grounds of the House. We used to have a dedicated shack and classroom in the cellar of Wythall House but as a consequence of the Covid Pandemic in 2020, we had to stop classroom training and meetings. The lockdowns also put a stop to our Annual Hamfest rally, which provided most of our funding. This resulted in us having to reduce our rental costs to survive. We are now able to set up a radio shack in the Darts Room at Wythall House when required and store our equipment at Wythall House.
The club's mission statement is "Having Fun with RF". We do all the things you would expect any other club to do but we try to do it differently. We run Plug and Play days in the park at Wythall House, often to coincide with a VHF or HF Contest somewhere, which give us an opportunity to get together in a portable scenario to play around with different designs of antenna, and radio equipment. We also do special event stations at local events and support local community activites when asked.
We currently have a membership of around 60 members including some overseas members. Club meetings are now "hybrid" with Zoom facilities to those who can't attend the Tuesday meetings at Wythall House in person. As well as this website, we also use social media via Facebook and the WRC groups.io forum for our members to keep in touch with each other.
We are strong on social events too with Club Contests at Easter and Christmas for which we award trophies for various classes of entry. Wythall House also has a well-stocked bar which adds to the "social ambience".
In the past we have held annual Radio Rallies (a.k.a. Hamfests) and annual Radio Fox Hunts. We have also been winners and runners up in the RSGB 'Club of the Year' and 'Regional Club of the Year' competition in previous years.
The club and contest group hold four callsigns between them G1WAC, G4WAC, G7WAC and G0WRC.
Reluctantly, we have had to close our classroom and online training programmes after nearly 20 very successful years. There are many reasons for this and these are explained elsewhere on the website. Chris G0EYO still continues to act as Training Co-ordinator for the Club and will happily give advice to anyone looking to get started in the hobby.
Wythall Radio Club offers an opportunity for a wide range of age groups, gender, and different abilities to meet within our local community. We have members who are single, divorced, married, widowed, employed, retired and non-working, of differing abilities from school students to company directors, from non-skilled workers to graduates. The Club places no barrier on one's ethnic and cultural background, sexual orientation, gender, age or ability. We have a common goal to communicate with others via radio and to participate in club activities and enjoy doing it. Hence our motto. "Having fun with RF".
Chris Pettitt G0EYO