Hewson (Jim) Tonge 2E0BLP SK (1934-2023)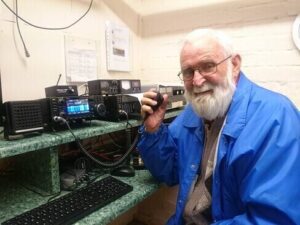 It is with great sadness that we learnt of the death of much loved and respected member Jim Tonge 2E0BLP, better known to all as the Voice of the Midlands, at the age of 88 (he would have been 89 in May). Jim had been ill for some time and had been in and out of hospital since October 2022 before being released home this February to be with his family in his final days. But our Jim, he was a tough cookie, and although seriously ill, he fought back and survived a couple more months just so he could participate in the club's Easter contest, in which he was the winner the G6ZDQ Shield. Lee G0MTN our Contest organiser said ". I'm sad we didn't get to award him a trophy one more time, but I'm sure he realised he was at the top of the table once again as winner of the 2m & 70cm section". Sadly he took a turn for the worst immediately after the contest finished.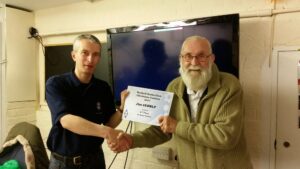 Jim was a very active member of the club for since joining in 1992 and particularly enjoyed the Christmas and Easter Club contests, of which he was often the leading station in both Easter and Christmas events. Out of 37 Christmas contests the club held, Jim won 5 times and for the 25 Easter contests he was top scorer 7 times. He had no equal. There was often strong competition between Jim and his son Kevin 2E0NCO for these top spots.
He helped out at all of the club ham rallies and was often to be found providing sustenance at club portable events such as field days, plug and play, special event stations and the summer BBQs. The club was able to show Jim how much we appreciated his enthusiasm for club events by naming a trophy after him last year. He was also very supportive through some difficult times at the club. Jim's involvement with radio started in the CB days of the 1980's and Jim always had the odd CB radio around although I don't believe he used it very often.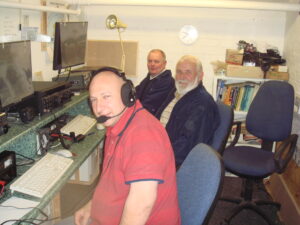 Jim was very much a family man and will be sorely missed by his daughters Susan, Diane and sons Kevin 2E0NCO and Jimmy plus the 56 grandchildren, great grandchildren and great – great grandchildren. Jim's wife Barbara, whom he married in 1958 and fondly known as Bib, sadly predeceased him in 2012. He always asked how you and your family where when you spoke to him, he genuinely cared about others. Jim was also a very keen competitive angler, something he shared with the family. When his health permitted he would be off every Thursday to pit his wits against the piscatorial adversaries that swam in the local ponds and streams. They didn't stand a chance!. He also loved his garden and until his health started to decline, we could all look forward to the offer of plums and tomato plants that he grew every year. At his committal service there were fond recollections of pigeon racing, baths full of eels, ferrets, geese, chickens and ducks in the garden, Mention was also made of his Army service in Korea, Egypt and Japan, it was a service he was immensely proud of and commemorated each Remembrance service at his local church.
As all that knew him would agree, he was a kind and gentle man, much loved by friends and family alike and someone who will be missed very much. RIP dear Jim. I wouldn't be surprised to hear that call again from up above "Bravo Lima Papa Call"
Chris G0EYO with contributions from club members