Frank Breedon G3MZU (1928-2012) SK
This is a historical document dated 23rd February 2012
In Memory of
Frank Breedon; Silent Key 1928-2012
It was with great sadness that the club learnt of the passing of honorary member Frank G3MZU on Thursday, 23rd February aged 83. Frank died in his sleep at his nursing home in Clent where was being cared for dementia and other problems. Frank had no children and his wife Joan pre-deceased him in 1990. He had two older brothers, Dennis and Brian, and his niece Lynn was looking after his affairs. Just before Christmas, Lynn contacted the club to say that Frank had left the radio club his equipment in his will. This was a very generous gift and we also agreed to sort out Frank's shack and loft and sell on behalf of the family, some of the vintage audio, computer and WW2 radio equipment he had, in order to defray some of Frank's nursing costs. We only finished our work dismantling his masts on Saturday 18th February.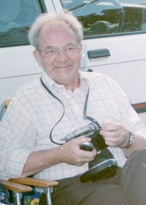 Frank was the Chief Maintenance Engineer at Cadbury's but he retired early to look after his wife Joan who unfortunately was confined to a wheel chair. He took a great interest in the club during its early years, helping out at field days, social events and of course the big project of installing the mast at the back of Wythall House. I well remember several Saturday's spent digging out the foundations with Frank and others.
His radio interests were very broad. He liked satellite communications, all forms of data transmission, 10GHz microwaves, weather satellites etc. He had equipment for HF and VHF and his garden had several antennas. His shack and loft were evidence of nothing ever having been thrown away in the past 50 years. We found early examples of converting a Wireless Set No19 for ham use and plenty of other home brew equipment.
Until he got ill, Frank always kept a dog and you could set your watch in the morning and evening seeing Frank walking, first Jake, then in later years Molly, along the Alcester Bypass between Barkers Lane and Becketts. He always referred to his dogs as "Sunny Jim". He was a big supporter of West Midlands Air Ambulance and gave generously to animal charities as well.
We have several mementos of Frank in our shack, the Air Ambulance picture and some of his early QSL cards. We also found his callsign desk plaque, but we also have our memories of him, of a kind, gentle and generous friend, who never had a bad word to say about anyone.
A number of club members attended his funeral service at St Mary Magdalene Church in Tanworth in Ardenon Tuesday 6th March and his committal atWythallCemetery. It was a beautiful service in a beautiful church and the vicar delivered a very nice eulogy of Frank who was known as Bernard to his family. We have reprinted the eulogy below as it gives us facts about Frank's life that we were unaware of.
Eulogy for Frank Bernard Breedon G3MZU
Bernard was a West Midlandsman, and was born in Tipton on 3rd February 1928. As a young child he lived over a baker's called Roy's on Bournville Green, attending the local primary school and developing passions at a young age for radio and electronics, as well as riding his bike.
During the war years Bernard said a sad farewell to his family to be evacuated to Penkridge Bank – Shooting Butts Camp. Twelve months later his brother Dennis came too to find Bernard in quarantine due to scarlet fever. Dennis remembers knocking on the windows to get his attention and having a big smile as he realised who it was. While at Shooting Butts Bernard passed his school exam and so had to leave Dennis to go back to Bournville for secondary school, after which he went into the forces until he was 21.
In Bournville, Bernard had a close friend Geoff Roy and while on a visit to his house one day he met his future wife Joan, though of course he didn't know that at the time. Bernard quickly became smitten and love and eventually marriage developed. Unfortunately Joan had been struck down with Polio at the age of 17, and though she never walked again that did not deter Bernard in the slightest and he became her loving carer throughout their married life together.
Bernard and Joan were married in 1950 inSellyPark, living with Joan's parents at first before moving into a flat inStaple Lodge Roadand then a bungalow in White Bean Croft. Bernard's brother Brian can remember walking along with Bernard and Joan in her wheelchair to Warley Odeon to listen to the big bands Ted Heath and Joe Loss.
After leaving the forces at 21 Bernard worked for Stergis Chemical Plant before securing a job as an electrician at Cadbury's Bournville, where he eventually became a manager. He worked nights at Cadbury's so that he could care for Joan during the day. Monday mornings he would join his brother Dennis for a game of golf.
Ham Radio continued to be his passion so they moved to Barker Lane apparently in order to have bigger aerials constructed! Joan used to joke that Bernard had three passions in his life – his dog, his radio and her, in that order.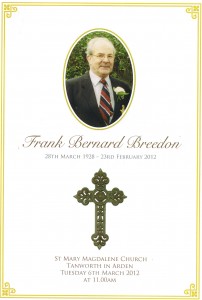 Bernard was always a very caring man, and he and Joan decided to become foster parents, and Janet came into their lives for about four years. Bernard also regularly sent money out to a Child inChina, and had a soft spot for helping animals too. When Joan died in 1990 a friendship developed with June who had been Joan's nurse and they spent many a happy hour in each other's company over the years.
Bernard was a very active man, and kept so into his later years, though a scare with a prostate operation in 1995 left him in intensive care for a week and his pace of life slowed down after that. His interests continued, however, going to Wythall Radio Club, Forester's Lunch Club and worshipping at St Mary's church where he had a good network of friends, Tricia and Dennis being two of them. Friends have spoken of a solid and patient faith in Christ which gave him strength and courage.
Sadly in recent time Bernard had to leave his bungalow for nursing care at the Forester Nursing Home. He was well cared for there and settled in quickly but his health continued to fade and he died on 23rd February.