Last night at Wythall Radio Club, there was a proud moment for one of our members.
Chris G0EYO was presented with the latest club trophy, the Lew Williams Shield. Lew was a former President of our club, who, although not a licensed radio amateur himself, was an expert in Morse Code. Many longer standing members have him to thank for passing their, then mandatory, morse test.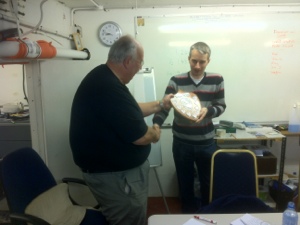 Wythall Radio Club decided to honour Lew's memory after he sadly passed away last year with a memorial shield, this to be awarded to the member who, in the opinion of the judges, had made the most progress in Morse proficiency during the year. Chris' entry was an excellent submission and a story of how he overcame his nerves to start making contacts on air using the code.
With the engraving complete, Chris is seen in the photo receiving the trophy from the Chairman of the judges, Lee G0MTN, who himself is a very well known Morse Code contester and fast sending/receiving expert! Congratulations, Chris!