West Africa is the destination for Wythall Radio Club member Jamie M0SDV. He joins a radio
DXpedition to Lomé, Togo from 14th March – 25th March – the only UK member of the international team of amateur radio operators.
Although one of the Club's youngest members, Jamie has an international reputation as an excellent amateur radio operator. Last year he operated from Bonaire and Curacao, small islands in the Caribbean. It's this reputation that led to his invitation to travel to Togo.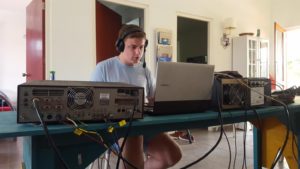 There is very little amateur radio operation from Togo, and Jamie reports big 'pile-ups' – large numbers of amateur radio operators all calling him to secure a contact.
Several Wythall radio club members have been lucky enough to get through the cacophony of sound and make contact with Jamie and the team – who are using the callsign 5V7EI.