Just about a year ago now, a team of intrepid operators made their way to Timor Leste in Australasia with the intent of putting on air the Amateur station 4W6A.

4W is a rare prefix in the Amateur Radio world and Wythall Radio Club are fortunate in having one of the members of that DXpedition team, Tim Beaumont M0URX, as a club member.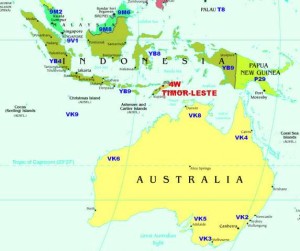 This coming Tuesday, Tim is set to reveal all the secrets of the 4W6A DXpedition to Wythall Radio Club members with an illustrated talk/presentation. Somewhere in the region of 40,000 QSOs were made during the event and Tim will doubtless have some fascinating stories to tell us.
As always, visitors are very welcome. The talk begins at 2030 in the Darts Room at Wythall House, Silver Street, Wythall B47 6LZ