Club member Chris G7DDN has been busy with his soldering iron already this winter, as the photo shows.  This is his version of the Hendricks "Weber  Dual Bander" kit.  See www.qrpkits.com/dualbander.htm.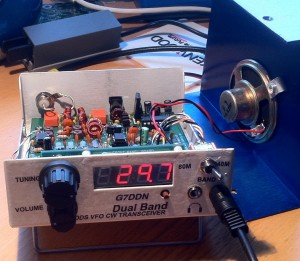 Chris says, "This is a fantastic little kit, it came quite quickly from the US and attracted no extra duties or VAT. There were a couple of missing bits which were remedied by Doug at Hendricks Kits and despite the transformer windings being a little awkward to work out, a post to the Yahoo Group sorted it out quickly".
He says, "I'm achieving 5w out on 40m and 7w on 80m". Delighted with himself, Chris continued, "It's a sensitive receiver with a 600Hz crystal filter and I've finished it just in time for the Christmas holidays – and the G-QRP Club Winter Sports!". Chris has promised a longer report on the build of this kit in the next Club Newsletter in the New Year.
Good job!