Wythall Radio Club is celebrating big-time. One of our youngest members has scooped a prestigious national trophy and in so doing, made it a hat-trick of wins for the club.
Earlier today, 15-year-old Jamie 2E0SDV was presented with the Radio Society of Great Britain's G5RP Trophy at their National Convention in Milton Keynes.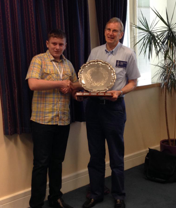 The G5RP Trophy is awarded annually to encourage newcomers to HF DX-ing. What makes young Jamie's achievement even more compelling is that the award is not limited to youngsters or indeed the newly-licensed; it is open to anyone who has made "significant progress" in HF DXing.
Jamie saw off some talented opposition to win the trophy, helped by his record number of HF QSOs on the recent RSGB Youth Expedition to the Brecon Beacons this August.
After receiving the award, Jamie said "I am very grateful for Wythall Radio Club's support over the past year. Thanks too to the RSGB for choosing me to receive such a prestigious award in the DXing community."
Jamie had been nominated by fellow club member and well-known DXpeditioner Tim M0URX who himself won the same trophy in 2008. And yet another Wythall Club member, James M0YOM, won it in 2009.
So Jamie now joins Tim and James in a unique Wythall Radio Club treble making it three G5RP wins in just seven years!
We are one very proud club tonight…