About
Wythall Radio Club

About the club
by Club Hon. President, Chris Pettitt, G0EYO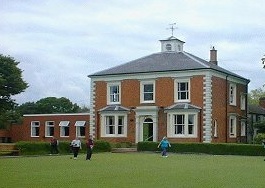 The Wythall Radio Club is one of the most active clubs in the Midlands. Meeting every Tuesday evening from 8pm onwards at the Wythall Community Association, Wythall Park, Silver Street, Wythall where it has been able to build a permanent shack and an HF to UHF antenna system mounted on a 60ft Versatower. It has around 60 members with a few overseas members in Italy, USA and Holland.
The club's mission statement is to have FUN in everything it does. We do all the things you would expect any other club to do but we do it differently. Our VHF NFD is not only another chance to come half way down the league tables yet again but an opportunity to play around with strange designs of 80m loop antennas, or have an FT817 contest to see who can work the farthest on a miracle whip. We also do special events such as Steam Fairs, Mills on Air, JOTA and other local events.
We are strong on social events too with a Xmas contest and Summer Fox Hunt which usually ends up in a pub somewhere. Wythall House also has a well stocked bar which adds to the social ambience. Of course we have been known to play radio using our a very well equipped radio shack covering 160m to 23cm which is in the basement of the community centre.
The club also organises the Annual Wythall Hamfest each March which provides the club with a source of funds but also an opportunity for many members of the radio community to come together.
We have an active Contest Group within the club and participate in many of the RSGB club contests, field days and other international contests. The club and contest group hold four callsigns between them G1WAC, G4WAC, G7WAC and G0WRC.

Throughout its 30+ year history, getting people into the hobby has been an important objective of the club and we have run regular classes in each of the exams that have come along over the years. In 2008, thanks to a Lottery Awards for All grant, we started running the full set of training courses for Foundation, Intermediate and Advanced licenses too.
Over the Xmas holiday the club runs the Christmas contest for members who will try and work each other every day from Xmas eve until the New Year and each member worked being a multiplier for the number of members worked over the best five days. The winner is presented with the "G7OJO Reg Brown Cup".