With 2013 fast approaching its end, the members of Wythall Radio Club have been celebrating some successes in the end of year contest results. 
Chairman Mike G4VPD is celebrating a win in the AL Section of the year-long 144MHz 2013 UK Activity Contests. He also came second in the 50 MHz and 70 MHz contests – a fantastic result! Club member Mark M0RKX also made some excellent showings for the club in these events.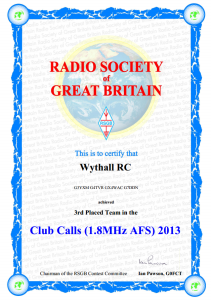 Also recently released are  the results of the 1.8 MHz Club Calls Contest, where Wythall Radio Club finished in 3rd place overall for the second year running, albeit closing the gap on the two other teams in front of us.
The detailed results can be found here, but our special thanks to Dave G3YXM for organising this one and finishing as top individual Wythall Station in front of Chris G7DDN and Simon G4TVR. We are especially proud of our Club Station GX4WAC, operated by Mike G4VPD, Stan G4JGV and Callum M0MCX. which came 2nd in the list of Club Stations in the UK.
A great end to a great year at Wythall Radio Club!
(Please click on the certificates for a larger view)