Wythall Radio Club's Training Department are celebrating again this weekend. This time an amazing 8 passes from the latest online Foundation Course.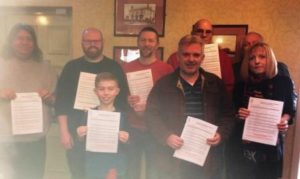 WRC Training Co-ordinator, Chris G0EYO told us today, "I am pleased to report that after an intense morning session on Saturday when they did their practical assessments, all eight of our on line Foundation class went on to pass their exam on Sunday."
So left to right in the picture, it's congratulations to Gary, Mike, Harry (aged 8!!), James, Neil, Andy, Ian and Sue.
Our thanks go to the WRC training team and our congratulations go to all 8 of the new licensees. We look forward to hearing the new callsigns on the air very soon!