Four candidates passed their Foundation exam at Wythall Radio Club on Sunday. This enables them to apply for Foundation amateur radio licences and get on the air!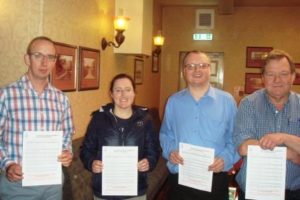 Ed, Emily, Stephen and Les (pic left to right) passed their practical assessments with excellent scores, having studied Wythall Radio Club's on-line course. Emily is the daughter of club member Stuart M0SRZ.
Given their high scores, we expect some of our successful candidates will want to progress on to the Intermediate course, which is also run by the Club.
All are Midlands based, so we hope to hear them on the air soon with their new call signs!!
The exam and assessments were managed by Wythall Radio Club members Chris G0EYO, Roger M0GWM, Peter G4LWF and John G4OJL.
The next on-line Foundation course starts on 21st May.