There was a fun evening on the air when Wythall Radio Club hosted a visit by Girlguides from the 132nd Birmingham Senior Section.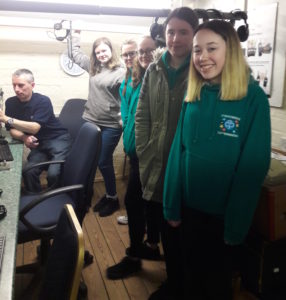 Sophie, Yasmin, Gemma, Naomi and Lara, with their Girlguide leader Liz, hunted satellites using a Yaesu FT-857 Radio and satellite tracking software.
They used Morse Code (CW) and digital communications (RTTY) to talk to each other via FLDigi, and saw how far the Club station's short-wave signals could reach by using the Reverse Beacon Network.
WebSDR illustrated the connections between computing, physics and amateur radio.
Lee, G0MTN, who hosted the evening with Anita, 2E0DUO and Peter M5DUO, fired up our 2 meter rig and the Guides passed greetings messages to Chris, G3YHF.
"They were very confident on the mic," commented Chris, "and even used the phonetic alphabet to spell their names."
"Thanks for a brilliant evening." said Liz, the Guide leader, after the event.
We hope to continue our co-operation…. but next we have some Scouts visiting us! Watch this space.