Fancy learning Morse Code instantly? Next Tuesday maybe you could!
Steve White, G3ZVW, former RadCom Editor and currently Editor of the annual RSGB Handbook certainly thinks you can. And to prove it, he will be our guest at Wythall House on 15th May doing what he terms an "interactive demonstration" on how it is possible to learn the basics of the Code from scratch and in one session!
We have a few "guinea pigs" on standby to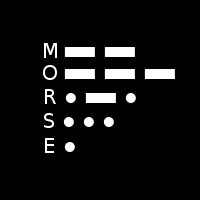 try this out, but perhaps you too might be brave enough to come along and experience for yourself exactly what Steve will be proposing.
Wythall members are intrigued by this coming evening – its been shrouded in semi-secrecy since we booked it and no-one quite knows what to expect.  All we know is that Steve has done this demonstration in front of a big audience at a recent RSGB Convention, so we are in good company!
See you there!