Thanks to our friends at Martin Lynch & Sons and Kenwood UK, Wythall Radio Club is now the proud owner of a top-notch transceiver in the club shack.
The Kenwood TS-590S is a very high performance radio, capable of excellent receive operation.  The old adage "If you can't hear them, you can't work them" is certainly true. Receive performance is often the limiting factor in amateur radio communications. No longer for G4WAC! Wythall Radio Club has taken a leap into the 21st Century with the purchase of the TS-590S with its excellent specifications.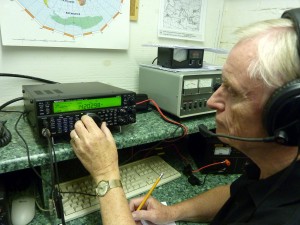 The ceremonial "unboxing" took place in the club shack last night and it wasn't long before members were on the amateur bands working the world via our excellent triband beam on the club tower.
Our thanks once again to the staff at Martin Lynch and Kenwood UK for their help in securing an excellent deal for the club – this radio is going to get a lot of use!