Wythall Radio Club's annual radio and electronics fair (known to Hams in the UK as  a "rally") takes place this coming Sunday 10th March.
Members are pulling out all the stops to make sure that, whether you are a trader or a visitor, you enjoy your visit to us. This Tuesday, our weekly club meeting will be taken up with our final preparations for the big day. Visitors are, of course, welcome on Tuesday, though be warned, you may end up with a job to do on the day! :-)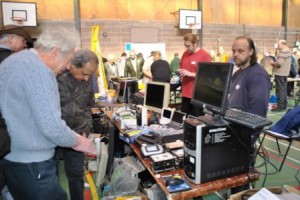 The Wythall Rally itself takes place at Woodrush School, Shawhurst Lane, Wythall, (B47 5JW for those who have SatNavs!) and doors open at 10.00am.
It is worth noting that we may have less room for on-site parking this year, depending on the waterlogged state of the school playing fields where we normally are allowed to park. We will try to update you via the website nearer the time so that you know in advance if you need to park a little further away than normal in order to get to us. Talk-in will also advise you on 145.550MHz FM on the day.
Whatever the case, we look forward to welcoming you to one of Ham Radio's best days out in the Midlands!