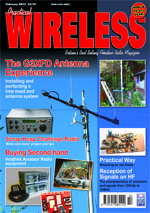 Following the very pleasant surprise about Wythall Radio Club winning the Martin Lynch and Sons Prize Raffle at the 2012 National Hamfest, it now seems the UK Amateur Radio press have cottoned on to the news too!
February's edition of Practical Wireless magazine has just been released and it has an article about our day trip to the ML&S goodie store where Chairman Mike Pugh G4VPD together with other members received a cheque for £600 worth of radio goodies from the store.
Thanks to Rob Mannion, the editor of PW Magazine for picking this story up and giving the club another useful spot of publicity in the UK Amateur Radio scene.
Why not pop down to your local newsagent and get a copy?