This Tuesday at Wythall Radio Club, we are pleased to welcome one of our local representatives from the Radio Society of Great Britain (RSGB).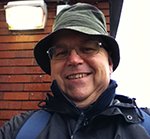 John Storey, G8SH, is coming to visit us to update the club on the latest goings-on in our national society.
This will be the first time John has visited us in his new role, so we are looking forward to giving him a very warm Wythall welcome (complete with a pint, no doubt!)
Why not come along and join us to see what John has to report? Tuesday 28th February at 20:30 in the Club Shack, Wythall House, Silver Street, B47 6LZ.