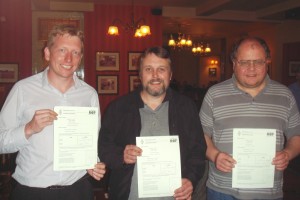 Well, Intermediate Exam night came and went last night and Wythall Radio Club is proud to announce that all three intrepid candidates have passed!
Well done to club members Chris M6BNQ, Keith M6KAO together with Tony M6TSK, (all pictured left with their pass certificates) – they now enter the world of 2E0 land! All scored very well in the exam, despite a few "I think I've failed" comments on leaving the exam room.  (We are used to that!)
Thanks go to Wythall Radio Club's team of Tutors; Lead Instructor Chris G0EYO, ably abetted and assisted by Dave G3YXM, Barry M0DGQ, Peter G4LWF and David G0ICJ.  Thanks too to to our invigilators last night, Mike G4VPD and David G0ICJ.
All three successful candidates have intimated that they are keen to progress to the Advanced level exam.  As luck would have it(!) we have an Advanced course starting on September 10th. Here's to a hat-trick of successes come December!