October's Radio Society of Great Britain magazine RadCom has been hitting the doorsteps of members here in the UK and it's rather good news for members of Wythall Radio Club.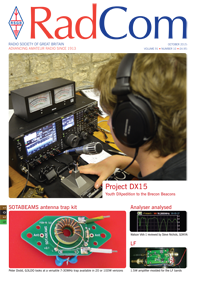 Pride of place goes to Jamie 2E0SDV who features in the main article this month as a member of the Project DX15. Jamie took the distinction (according to page 39) of being the only youngster to make over 1000 QSOs during the Brecon Beacons' Youth DXpedition.
Other Wythallians in RadCom this month include our contest supremo Lee G0MTN, who will be presenting a lecture at the forthcoming RSGB National Convention in Milton Keynes – his credit appears on page 32.
And as the publication's regular LF Columnist, club member Dave G3YXM enlightens us on the world below Top Band on page 62.
Finally the club itself even gets a mention in the Sport Radio column on page 76, for our achievements in the Club Calls contest as part of the AFS Super League event.
Quite a packed issue if you are a Wythall member then!