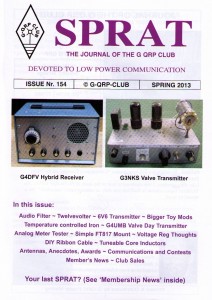 This is becoming a little bit of a habit!  Further to other posts on this website (here and here), we are pleased once again to congratulate Barry M0DGQ on the publication of yet another article in renowned Ham Radio magazine SPRAT.
SPRAT (Small Powered Radio Amateur Transmitters) is the quarterly journal of the G-QRP Club. It is known world-wide for its technical innovation and integrity.
The Spring edition is just now landing on the doormats of its members and therein, on page 14, is an article by our very own Wythall Whizz-kid(!) for a Temperature Controller device for a cheap Chinese soldering iron purchased from a well-known auction site! Complete with circuit diagram, Barry designed and then built this just using components from his "Man Drawer". Has he just invented the cheapest Weller clone in the world, we wonder? :-)
Once again, congratulations to Barry from all at Wythall Radio Club on another brilliant and innovative article. Whatever will he be constructing next?