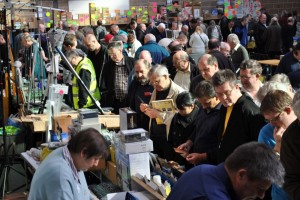 The 2013 Wythall Radio Club Rally is just a fortnight away!
This is a day long event (this year on Sunday 10th March), where radio related traders from all over the UK descend on Woodrush School, Shawhurst Lane, Wythall, (B47 5JW for those who have SatNavs!) and ply their wares to radio, computer and electronics hobbyists of all kinds. It's a fun day and you are sure to come away with a bargain or two!
Doors will open at 10.00 am and it is worth getting there early to snap up the bargains which will doubtless be on offer! And the real bonus is the £2.50 entrance fee – Wythall is still one of the least expensive events in the UK and has a reputation for being one of the friendliest.
Wythall Club Members are keying themselves up for a busy weekend on 9th/10th March as to put this event on involves a huge effort from everyone connected with the club.
Plans are being finalised to make sure the day goes as smoothly as possible. More updates will appear on this website so watch this space!