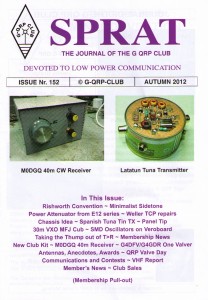 SPRAT (Small Powered Radio Amateur Transmitters) is the club magazine of the G-QRP Club, QRP being the amateur radio code for "low power".  Many radio enthusiasts like to see how far their tiny QRP signals will travel, often from simple home-made transmitters, receivers and antennas.
Barry, M0DGQ, is one member of Wythall Radio Club who enjoys doing just this kind of thing and for the second time in recent months, one of his home-brew projects has appeared in the SPRAT journal. This time, it is a companion receiver to go with the transmitter he has already had featured for the 40m shortwave amateur band.
Getting an article into SPRAT is no mean feat, but then Barry is no ordinary amateur! Take a look at his homepages at m0dgq.co.uk to see what sorts of things Barry does with his hobby!
Meantime, congratulations to him for another top class article published for the world to enjoy!