Another Wythall Radio Club member has been making waves in the world of this great hobby. This time it is the turn of James M0YOM.
James is a professional computer genius but in his "down time" has been developing a neat remote control program for the ACOM 2000 RF Linear Amplifier. This has been gaining several notable users as time goes by.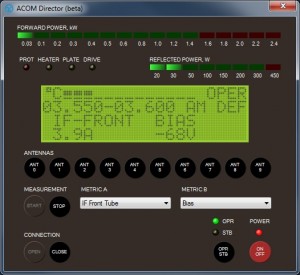 The latest news is that Mike W0YR has contacted James from the USA to thank him for his contribution to his Amateur Contest Super-Station, K4VV. Nice to see James' software in use in such a fantastic setup!
Take a look at the station tour video here where Acom Director can be seen. Also there is a video of it in use during the 2013 ARRL DX SSB Contest – check out the window in the centre of the screen!
For more information on Acom Director, visit James' website. Meantime, congratulations to James from all of us here at Wythall Radio Club.