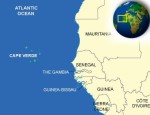 Wythall Radio Club member Barry M0DGQ has been granted the temporary license call of D44TXP and will be active from the Isle of Sal (Cape Verde) from Aug 27 to Sept 12 if all goes well. Due to baggage weight limits it will be low power (20 Watts) and he'll be CW only using 40m, 20m and 10m. Barry hopes to operate from the waters edge as well as the hotel apartment. Tim M0URX has very kindly offered to act as his QSL manager.
Barry mentions that his only concern is that he doesn't get pulled for having a Sealed Lead Acid battery and hopes the radio survives the journey!
All QSL details are now posted on QRZ using the call D44TXP.
UPDATE – Several members have heard Barry from the Cape Verde Islands but as yet we don't think anyone has broken the considerable pile-ups to work him!