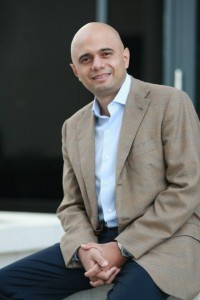 Wythall Radio Club is proud to announce that the Financial Secretary to the Treasury, Sajid Javid MP is to visit the G100RSGB centenary station later this month.  Mr Javid is also MP for the Bromsgrove constituency of which Wythall Radio Club is a part.
Wythall Radio Club will be hosting the G100RSGB callsign on Hallowe'en and All Saints' Days – 31st October and 1st November. The 43 year old MP will be visiting the station during Friday 1st November and will meet the General Manager of the RSGB, Graham Coomber, who will also be in attendance.
Sajid Javid is a rising star in the UK political scene. He moved up from Economic Secretary to the third most senior position, Financial Secretary to the Treasury, in the coalition reshuffle of October 7.  The MP previously worked for Chase Manhattan Bank and Deutsche Bank, before being elected to the Bromsgrove seat in 2010.