May is Morse Code Appreciation month at Wythall Radio Club – where we celebrate members' progress in learning the 'dots and dashes'!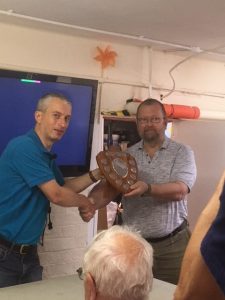 The overall winner of the Lew Williams Memorial Shield this year was Dave M0IFT. He is seen receiving the shield from Lee G0MTN.
Dave is one of the group of members who have been learning Morse code at the Club's weekly Morse class, run by David G0HVN. We welcome new members who might like to learn this skill!
So very well done, Dave, and we look forward to hearing your dots and dashes on air!