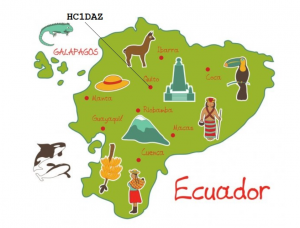 The bands have been buzzing with Wythall Radio Club members' DX activity! And the results of our annual DX Challenge table are now available.
The leading Foundation entrant – in fact, the only one in 2020 – was Tim M6OTN, who contacted radio amateurs in an impressive 106 different countries (see map below – green indicates countries worked).
One of the contacts was with Alberto, HC1DAZ, in Quito, Equador (see map right).
Others were with Greenland, the Falkland Islands and China.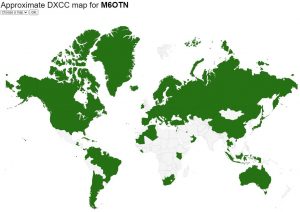 Tim used a mix of SSB (single sideband voice) and FT8 digital mode from either a Kenwood Ts 530 or a Yaesu 450d to a 1974 vintage pre-used ground mounted Hy-gain 18 AVT/WB – S vertical.
Nice going Tim, with a score that compares well with those in the other licence categories who are able to use more power!
There was a close result in the Intermediate licence group, with John 2E0XET pipping Kevin 2E0NCO by 100 countries to 94.
This is all the more impressive as John was operating 100% CW (Morse Code) with a wire doublet antenna and often using very low power, while Kev was 100% FT8.
Lee G0MTN had a commanding lead in the Advanced licence group with 160 countries worked. Tim M0URX was in second place at 123 countries, again impressive as these were all worked using SSB.
With conditions on the HF bands picking up, the score for the 2021 DX Challenge is already taking off!