Winter is traditionally a time of year for Radio Amateurs to spend long evenings indoors "playing radio". For many of us, that means the opportunity to build our own radio equipment. In this, we are following a ham tradition which goes down the years (the early radio pioneers HAD to build their own equipment as there was nothing to purchase!)  and indeed, this is one reason why one needs to pass exams to join our hobby.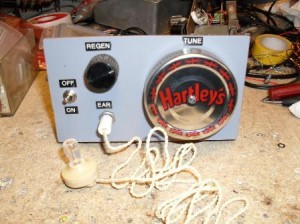 So it is then that this winter, Wythall Radio Club's members are undertaking a simple construction project to get us "back to basics".
Wythall Club Member Barry M0DGQ is leading us in a two week project  to build a simple TRF  (Tuned Radio Frequency) Receiver. The set Barry has designed covers 2.6 MHz to 3.9 MHz approximately. This includes all of the 80 metre Amateur Band and some of the Shortwave Broadcast band. Using a good antenna and ground, we would hope to receive international shortwave broadcast stations, as well as Amateur SSB and Morse signals.
This Tuesday, 19th February, Barry will lead us in an informal presentation of the basics of the circuit and how it works and the pitfalls we will have to watch out for in constructing it. The following Tuesday, 26th February, we will be making a set each. Should be fun!
Why not come along and see how we all get on? 2030 at Wythall House, Silver Street, Wythall. B47 6LZ