We finally have the long-awaited results of the the Wythall Christmas Contest, and it's great news for both a first time winner and a contest stalwart!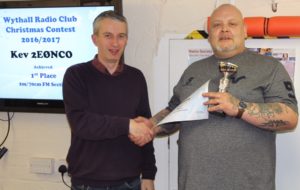 Kevin 2E0NCO's persistence and stickability proved far too hard for anyone to beat – he finished top of the FM section (and in fact top overall, which is quite an achievement!)
David G7IBO, the reigning all-mode champion repeated his 2015/16 success to win the G7OJO trophy for the second year in a row. That after many years trying to be a winner!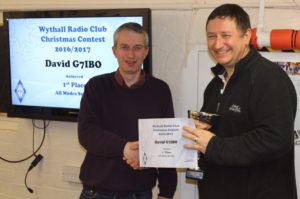 Thanks to our Contest Team, especially Lee G0MTN, for the seemingly increasingly hard work involved in putting the event on and adjudicating it.
It won't be long either before Wythall Radio Club members are at it again – our Easter Contest is coming up soon with Eggs as prizes! Watch this space!