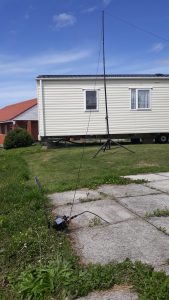 A variety of antennas are being used for this month's Wythall Radio Club DX Challenge on the WARC bands, any modes.
Tim M6OTN, at his caravan in Somerset, made an inverted vee sloper cut for 18MHz with a counterpoise out of spare wire he had to hand (photo left). He was shocked how well it worked – "it's the fun of antennas!" Tim now has 48 countries worked on this band using FT8 – and the challenge is only one-quarter way through!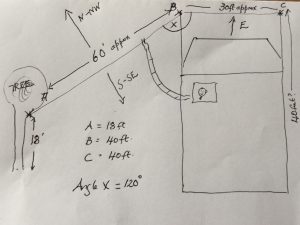 Meanwhile John 2E0XET used his trusty 90 feet-long dog-leg doublet to great effect, working ZD7GB on 18078 CW with 12 watts. Nice!!
Using spare ladder-line, a coupled-resonator antenna was put into service by Chris G3YHF.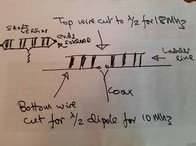 One side is cut as a dipole for 10mhz and fed with coax. The other side is a single section half-wave for 18mhz with the middle above the dipole feed point but not connected to it. The 18mhz conductor placed close to the dipole is imposed on the 10mhz dipole and means that the antenna happily resonates on both frequencies.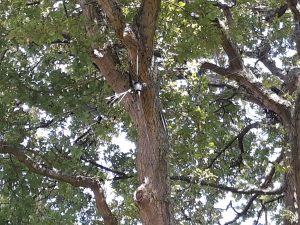 And at G0MTN, Lee is using a fan dipole for 10, 18 and 24 Mhz and 50Mhz – carefully disguised in a tree! This has proved very successful in increasing Lee's DXCC count.