Awards for Wythall Radio Club contests attracted a big turn-out of members this week.
There was keen competition between members over the festive period in the Club's annual Christmas Contest.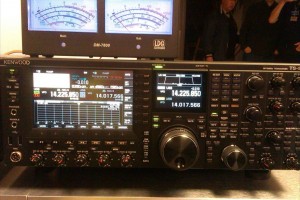 Only 30 points separated the winner of the 2meter/70cm (VHF/UHF) section, with Kevin 2E0NCO (photo below) repeating last year's success ahead of Jim 2E0BLP. Stu M0NYP came third, a great result as he was less active during the contest than many other entrants.
One point was awarded for contacting another Club members on each day of the contest, and a multiplier for the first contact with each member. Operating mobile or portable gained bonus points.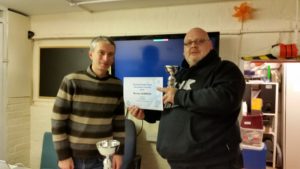 Entrants in the 'all bands/modes' section were not restricted to operating on VHF and UHF. They could also gain bonus points by using the many short-wave bands available for amateur radio and by using different modes such as voice, Morse code or digital.
The top places were separated by only a few points, with Chris G3YHF (photo below) wining the G7OJO Trophy for the first time, and Don G0NES and Ian M0LQY in second and third place.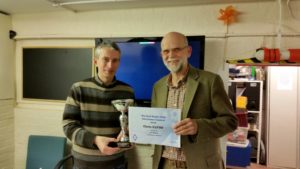 There were several special awards. Tim M6OTN received a certificate for making the most contacts using digital voice (D-Star/DMR) modes. He also won the 'Out of Town' award for operating in the contest while on holiday in Somerset!
Awards were given for the leading Foundation licencees – Maz M6NKO in the 2m/70cm section, and Miles M7ACN (photo below) in the all modes section. Miles had an impressive entry – he received his licence 2 months ago and made all his contacts using a hand-held radio and antenna!
Some members used Zello – a mobile network-linked radio mode – and Mark M0LXQ received a certificate for making the most contacts. John M6KET and Chris G3YHF were equal first in making contacts using Morse code.
Photos of all award winners are in the gallery below.