Following on from the previous news item, tonight has seen yet more presentations at Wythall Radio Club.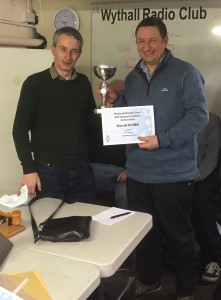 Christmas Contest Winner David G7IBO finally got home from France and up to the Club to receive the G7OJO Trophy for the Open Section. It's been a few years of coming second for young David, but this year he finally managed to get his hands on the trophy! Well done to you, sir!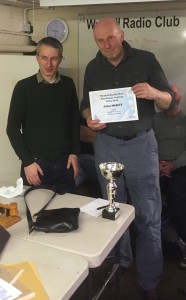 John M6KET also was on hand to receive his certificate for the highest placed Foundation Licensee in the same section.  What was particularly remarkable about John's achievement was the fact that all his contacts were made using Morse Code. John is unusual in being 100% Morse and Low Power.
Well done to both and great to see such fun being had on our regular Tuesday Club nights. Thank goodness that contest supremo Lee G0MTN was on hand to do the presentations!