Communications is what the hobby of Ham Radio is all about but this week at Wythall Radio Club, we will be learning about a slightly different communications infrastructure.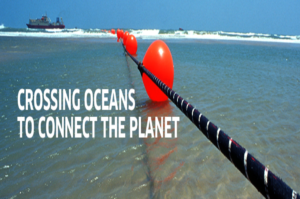 One of our newer members, Martin M6GYH is going to talk to us about a subject he is bit of an expert on, namely Trans-Atlantic cabling.
It was a real struggle to create the first few Trans-Atlantic cables and Martin will be telling us about the history of cross-continent communications.
He will also be bringing us bang up-to-date on the current state of communications under the oceans – he will introduce us to WDM (see, you don't know what that is yet!), the use of infared laser technology and explain to us how in the 21st Century, Gigabits of data are transmitted around the world.
Wythall House is the venue, Silver Street B47 6LZ – Tuesday 24th May is the day and 20:30 is the time.
Get there early for the best seat!