Wythall Radio Club put on a team effort for the Beavers of 1st Tidbury Green Scout Group. As a result, 30 Beavers – aged 6 – 8 years – achieved their Communicator Badge and a Certificate of Achievement from the Radio Club.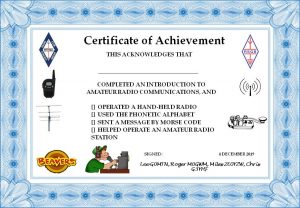 We had 4 members working with the Beavers on a range of activities – learning how to send their names by Morse code (see photo), using licence-free walkie-talkies to pass secret messages using the phonetic alphabet, and passing a greetings message to 3 additional Club members on-air. This used the Club's 70cm repeater GB3WL.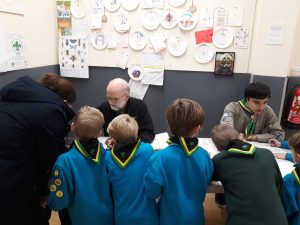 As December is 'Youngsters-on-the-Air' (YOTA) month, we used the special callsign GB19YOTA with the Beavers. And a coordinator of this international YOTA month is Jamie, M0SDV, one of our teenage Club members.
It was a hectic hour but the Beavers threw themselves in to the activities and went away happy if exhausted.