Wythall Radio Club members, families and friends enjoyed the annual Christmas Party at the club this weekend.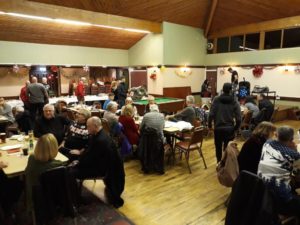 It was a great turnout with all the tables occupied – and even Santa paid a visit!
There was much discussion over festive drinks about the various exam successes the club had achieved over the last week, together with the anticipation of new callsigns. Other members were sharing their plans to take part in the forthcoming Christmas Contest.
The American Supper highlights included the famous G3YXM Tagine, the authentic G4VPD Spanish meatballs, not forgetting the 2E0DUO roast pork.
And of course, the usual games – the skittles competition, stand-up bingo and of course the traditional raffle.
Our thanks go to Kev 2E0NCO and Anita 2E0DUO for their work organising the party. Perhaps we will see you there next year?