Wythall Radio Club's annual Christmas Contest results ceremony attracted a big turn-out of members.
Operating from Colorado USA, Mark M0LXQ – who also holds the US call sign K0YC – made contacts with 8 Club members and was first in the Digital Voice category. His Christmas operating was at 8,000 feet in the mountains, with guaranteed snow (see photo)!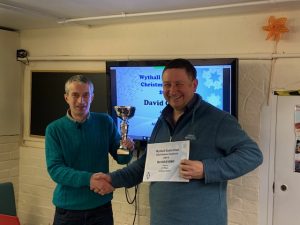 There was intense competition in the 'all modes/all bands' section and little to separate the top three places. Success went to David G7IBO, who won the G7OJO Trophy (photo left). Ian MoLQY and Chris G0EYO were in second and third places.
A cold and misty evening operating from the Lickey Hills assured Kevin 2E0NCO of success in the 2meter/70cm (VHF/UHF) FM section, and award of the FM Trophy (photo right). Winston 2E0EGP came second and Juliet M6RSC was third and also the leading Foundation licence competitor.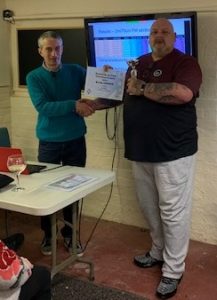 The Christmas contest is one of many Wythall Radio Club activities. The Club meets Tuesday evenings at Wythall House, with its own dedicated meeting room and fully equipped shack, and welcomes visitors and new members.