Wythall Radio Club members are celebrating today following the release of the latest set of contest results.
Club members recently took part in the RSGB's Club Calls Contest (November last year) and the results show that Wythall RC has finished in 2nd place, after a few years finishing 3rd.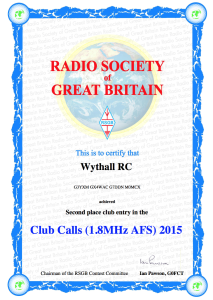 Our congratulations go to the winners, Bristol Contest Group, who are a very hard act to beat, but with our team of "ordinary" club members pulling together, we managed what we consider to be an excellent result.
However, the results also show that we are the top non-contest club in the country in this event, something of which we are very proud. Pictured is our hard-earned certificate.
Our thanks go especially to our Club Calls Contest co-ordinator Dave G3YXM who whips us into shape each year for our regular assault on the event.
Perhaps next year, we can steal the top spot!