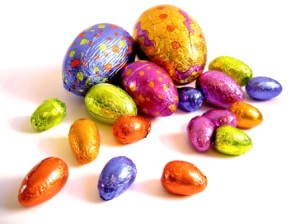 If you are tune around the 2 metre band in the West Midlands area between Maundy Thursday morning & Easter Monday night and hear some stations exchanging numbers, you might just have stumbled upon the 2014 Wythall Radio Club Easter Contest!
Just as at Christmas, we hold an event to get our members on air and working each other. Points are given for each member contacted – each discrete member worked across the period also counts as a multiplying factor (or multiplier) to attain a final score.  It sounds complicated but we have a clever Excel spreadsheet which keeps score for us!
Just to ease the complication, tomorrow (Tuesday 14th April) we will have an evening where we can explain the idiosyncrasies of this annual event. Chris G7DDN will attempt to simplify the rules and the logging so that everyone can feel comfortable in taking part. 2030 in the Club Shack at Wythall House, Silver Street. B47 6LZ.
Incidentally, the prizes for the contest are Easter Eggs – is it no wonder so many Wythall RC members are getting ever larger?