Prizes of chocolate eggs delighted the winners of Wythall Radio Club's annual Easter Contest!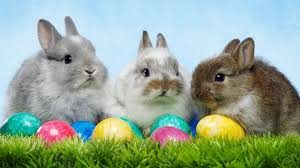 The award for the highest placed Foundation licencees was Miles M7ACN, who was also placed 2nd in the 2m/70cm FM section, with Kevin 2E0NCO the winner of a scrumptious Easter egg and Simon G4TVR in 3rd place. Kev was also awarded the Colin Baker G6ZDQ Easter Contest VHF section shield, in memory of our former Club member.
In the all bands/modes section, Jim 2E0BLP was the winner of the delicious chocolate Easter egg, with Ian M0LQY in 2nd place and Chris G0EYO 3rd. Jim was also awarded the David Dawkes G0ICJ Easter Contest all bands/mode section shield, in memory of our former Club treasurer.
The G6ZDQ and G0ICJ shields were presented by members of Colin and David's families, who joined us for this special evening.